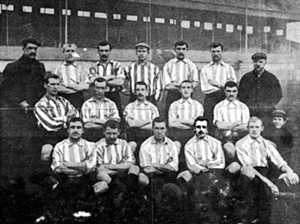 By the time of the 1899/1900 season Sunderland had only 2 of the 11 who won the League championship in 1894/95, Edward Doig and Robert McNeill. Sunderland would end the campaign in 3rd position. It would give them the platform to launch another assault on the league championship over the next 2 seasons. After the turmoil of Watson leaving, Roker Park had provided stability again. The future looked good again, and Sunderland were back on track.
James Millar was still plying his trade, but in Scotland with Glasgow Rangers along with former Wearside favourite Dunlop. Gillespie and James Hannah were now at Third Lanark. The rock that was Hugh Wilson was keeping Bedminster in check will Gibson was at Lincoln city, Davie Hannah at Queens Park Rangers and Peter Boyle at Sheffield United. By now time had moved on for Johnnie Auld, Campbell, Scott, Harvie and Gow, all retired.
It was estimated that Sunderland, for every league season had travelled 12,000 miles. In their first league decade they had "been round the world" 4 times. No mean feat in those days.
Sunderlands skipper for this campaign was Robert McNeill. He was born on 21 November 1873 and started his professional career with Port Victoria, before moving onto Port Glasgow Athletic, a team Sunderland had played previously, prior to league entry. 2 years later he went to Vale of Clyde and for the 1899/1900 season enjoyed a benefit game at Sunderland. He was signed by Tom Watson.
2 September saw the opening league game of the season at home to Aston villa. The "A" team had kicked off their campaign one day earlier. Villa defeated Sunderland 0 v 1.
6 September and Sunderland played "The Kaffirs" at Roker Park. The term, now banned in South Africa, referred to the coloured team who were touring England. Match reports referred to the visitors as "darkeys", and indicated that the game was "funnier than a pantomime". What today's modern 21st century society would make of such blatant racism is clear. The values of 1899 were certainly different to those of today. The game ended 5 v 3 in Sunderlands favour. The "Kaffir" (sic) line-up was as follows: Adolph, Daniels, Fogallo, Proffits, Brown, Apollis, Kortie, Lakey, Twayli, Martin, and Bothoko
Sunderland then went 7 league games without defeat, although 3 consecutive defeats towards the turn of the year was a big blow in our championship challenge.
Another FA cup campaign came and went, the 10 February defeat by Nottingham forest continuing our jinx with the competition.
On 14 April 1900 Sunderland defeated Manchester City 3 v 1 at Roker Park. The visitor's goal was scored by their goalkeeper Williams, whose wind assisted kick out flashed straight past Teddy Doig, much to his amazement.
The decade was ending and Sunderlands first 10 league years made for impressive reading:
1890/91 - seventh - 34 points
1891/92 - league champions - 42 points
1892/93 - league champions - 48 points
1893/94 - runners up - 38 points
1894/95 - league champions - 47 points
1895/96 - fifth - 37 points
1896/97 - fifteenth - 23 points
1897/98 - runners up - 37 points
1898/99 - seventh - 36 points
1899/1900 - third - 41 points
It had been a monumental decade. We had been elected to the league, been champions 2 times, runners up twice, and had moved to the best new stadium in the country.
Things were looking good for Sunderland AFC as the 20th century began.