Sunderland were elected to the Football League, and became the first club to do so after the original 12. For the 1890/91 season the following teams competed for the championship:
| | |
| --- | --- |
| Preston North End | Blackburn Rovers |
| Bolton Wanderers | Accrington Stanley |
| Everton | Burnley |
| Aston Villa | Wolverhampton Wanderers |
| West Bromwich Albion | Derby County |
| Notts County | Sunderland |
Notts County, Burnley and Stoke applied for re-election; Darwen, Grimsby Town, Newton Heath, Sunderland and Sunderland Albion for election.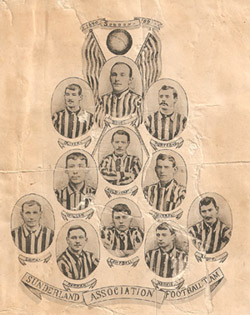 The meeting to hopefully welcome Sunderland to the Football League was held in the Douglas hotel in Manchester 2 May 1890. Sunderlands representatives at the meeting were James Marr and the Reverend Robinson Hindle of Eppleton Village. It's kind of ironic that it was a cleric, rather than a School Teacher who pleaded Sunderlands case. Their case was also backed by Alderman JP Hartley of Accrington.
As we have seen no one could exclude Sunderland from League football on playing ability, the 1889/90 season had seen to that. The problem was the travelling. Geographically Sunderland was out on a limb, compared to the other Clubs. However 2 things swung it Sunderlands way. First of all 10 of the sides had already visited Wearside, and most importantly the red and whites agreed to pay visiting teams travelling expenses. This "guarantee" would last only one season.
Sunderland were elected in place of Stoke City and Wearside eagerly awaited the arrival of League football. Sunderland Albion, having been refused Football League entry instead joined the northern League. In an 8 team league they would finish the season 3rd.
Tom Watson, always shrewd continued to strengthen the squad and the arrival of both Jimmy Millar and Hughie Wilson would in time be great signings. Wilson would end up Captain, and both would see Roker Park. The contract awarded to Hugh Wilson was certainly unique, in that it was between the Clubs Treasurer Samuel Tyzack and not Sunderland AFC. Signed on 18 May 1890 the contract was initially for the period 1 September 1890 to 30 April 1891. It was witnessed by J Tindell Green, Solicitors. His contract at the beginning did not look good for him, although he was only twenty. £70 signing-on fee and 25s/- appearance money, plus 5s/- for a win, and half a crown for a draw. But soon £3 became the usual weekly wage.
For the record Sunderlands season actually started against Renton, 1 September 1890, with a 5 v 1 victory. 2 days later a further warm up took place at Middlesbrough, a 0 v 0 draw. A 6 v 3 defeat of Preston North End was encouraging. A 3 v 0 success over Middlesbrough Ironopolis, followed and a 5 v 2 away victory over Rendel & Elswick Rangers completed pre season.
Sunderlands very first league match was at their Newcastle Road ground 13 September 1890, where they crashed 2 v 3 to Burnley. In time the lads would go on a magnificent home run, remaining unbeaten until 9 December 1893 when Blackburn Rovers defeated us 2 v 3.
The Burnley game was played before an "immense throng of spectators". Burnley were the holders of the Lancashire Cup. Sunderlands historic first league goal was scored by Spence, with Campbell netting the other. The historic team line-ups look like this:
Sunderland: Kirtley, Porteous, Oliver, Wilson, Auld, Gibson, Spence, Millar (pictured below), Campbell, Hannah, Scott
Burnley: Kay, Walker, Lang, McFettridge, Spiers, Keenan, Oswald, McLardie, Lambie, Stewart, Hill
The referee was Fitzroy Norris from Bolton.
The difficulty Sunderland faced was underlined when they crashed again 3 v 4 on 15 September, this time to Wolverhampton Wanderers. Gillespie got a brace and Scott scored a great second. Sunderland had led 3 v 0 at half time, but when keeper Kirtley became ill, the match turned into a debacle, as far as the red and whites were concerned.
Sunderlands very first league victory came again West Bromwich Albion, 20 September, at Stoney Lane, a 4 v 0 triumph that witnessed the debut of John Edward "Teddy Doig" in the Sunderland goal. He had been transferred from Arbroath and was known as the "Prince of Goalkeepers". Doig incidentally had been a witness to the Scottish clubs 36 v 0 slaughter of Bon Accord in the first round of the Scottish Cup on 5 September 1885.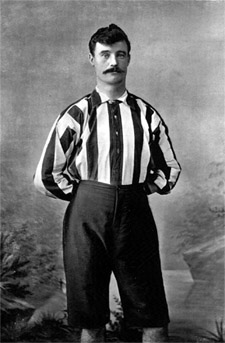 At that time players were paid a maximum wage of 25 shillings per week during the season and 10 shillings per week out of season, so they also needed jobs. Most Sunderland players got employment with either the Manor quay or North Sands shipyard and some at Dickinson's engine Works.
Doig was given a job in the North Sands shipyard office and in time would be magnificent servant to Sunderland. He had a bald head and covered it, always, with a cap, held in place by a piece of elastic under his chin!! In one famous incident, a Good Friday match against Glasgow Celtic, his cap blew off and he raced around the penalty area to retrieve it, rather than the ball!! He was quite a character. Not only that he was quite a goalkeeper, and Sunderland were beaten only once at home in 6 seasons after his arrival. Doig lived at Forster Street, off Roker Avenue.
His transfer was however not without its controversy. In the first recorded football League deduction of points, a mix up in Teddy's registration, he was also signed to play for Blackburn Rovers, resulted in a 2 point penalty and a £50 fine for Sunderland AFC. 22 September and Sunderland travelled to Stoke City, who promptly beat us 0 v 1. Back to league action and the return game against Burnley resulted in a 3 v 3 tie.
Sunderland were still keen to maintain links with their Scottish friends and 2 October the red and whites travelled to Glasgow, where a 2 goal lead, courtesy of Harvie and Campbell was clawed back in the second half. 2 v 2 the final score. 4 October and another friendly, this time against old adversaries Cambuslang. A 3 v 1 victory at least made up for defeats inflicted by the Scots earlier in Sunderlands development. The next week Sunderland travelled to Blackburn on the Friday and succumbed 2 v 3 the next day to Rovers, with Campbell and Auld on target. The season was now in full swing and a visit to Accrington, ending 2 v 2, was followed by a trip to Bolton Wanderers where a hat trick from Johnny Campbell secured a brilliant 5 v 2 victory.
1 November and great interest surrounded the visit of Blackburn to Wearside. There had probably never been such interest in a game within Sunderland since the Albion had met us. Sunderland triumphed 3 v 1 with Johnny Campbell again on target. The press remarked that the red and white outplayed rovers in every position "except full back".
The next fixture 6 November was a holiday, owing to the opening of the new town Hall, and previously unbeaten Nottingham forest were the visitors to Newcastle Road. At the time Forest were the champions of the English Alliance and over 10,000 spectators turned up for the match. Sunderland lost the toss, played against the wind and were soon one down. 2 minutes from time lethal marksman Campbell netted an equaliser. 1 v 1 was respectable against a good team.
The season wore on with some useful results. A home draw with West Bromwich was followed by an away defeat at Everton. Accrington Stanley gave us a hiding 1 v 4, but Newcastle West end, in a friendly match were put to the sword 5 v 0, Campbell again causing mayhem. Once more the season couldn't pass without a visit from Scottish friends and Airdrie were defeated 4 v 1 on Wearside. The Scots domination of Sunderland was now well and truly at an end. The pupils had become the masters.
Into December and Sunderland A team defeated Rendel in an Alliance match. There was a first for Sunderland on 13 December at Trent Bridge in front of 8,000 spectators. The league game with Notts county started in bright sunshine but with 30 minutes to go, the fog that descended was so dense that the match was called off and replayed 2 days later. Sunderland lost 1 v 2, despite taking the lead through Wilson. 20 December saw the staging of the "English cup", with the Lads at home to Everton. This was a marvellous match and Sunderland triumphed 1 v 0 with a goal from Hannah. Strangely at this point in time the Merseyside team were top of the table and Sunderland bottom.
With Wolverhampton playing 2 reserve players due to injury Sunderland gained a vital away triumph in the midlands, and then went on a run of 7 consecutive victories, including the defeat of Darwen which led to protests from the Lancashire team that contrary to Association rules Jock smith had played for both Sunderland and Newcastle East end within 50 days.
This was all Sunderland needed after the Doig fiasco. Fortunately for Sunderland the appeal was dismissed and there participation in the Cup continued. Next round they would face Nottingham Forest. Before that though there was league action, with Sunderland going down 1 v 3 to Derby County. Notably, on the same day Sunderland A thrashed Sunderland Albion A 6 v 0, in the second round of the Durham Cup. A 2 v 0 home success against Bolton Wanderers, Campbell scoring again was the perfect warm up for the FA cup 3rd round. It was a thrashing 4 v 0, Campbell netting a brilliant hat trick and Sunderland were now into the semi finals.
A draw at Preston North End preceded what was probably Sunderlands most important match so far in their short history. On 28 February 1891 Sunderland played at Bramall Lane in the semi final of the FA cup. It was the Lads first such occasion and the game was marked by untold drama. That the score ended 3 v 3 evokes all sorts of conclusions, but it could have been so much different if a Johnny Campbell effort after 3 minutes hadn't been disallowed for offside. As it was Notts County took the lead and an own goal pegged the score back. Harvie then gave Sunderland a shock lead before the pendulum once more swung in County's favour before half time.
In the second half the Nottingham team gained a curious advantage when they claimed that a shot had gone in off the underside of the crossbar. Due to the fact that nets wouldn't be used until the following season they were of course referring to the "chord". The referee inexplicably gave the goal. To Sunderlands credit they fought back and goalscorer par excellence Johnny Campbell gained a well deserved draw and a replay.
In a bizarre twist the county team were incensed when Porteous handled the ball in the box, when it was clearly travelling into the net. Not with standing the fact that the Sunderland goalkeeper was Doig, the penalty kick had not yet been introduced and so this was viewed very dimly by the crowd who made their feelings known in no uncertain terms. Porteous went unpunished. The penalty kick was not introduced until 1891.
Sunderland went on to lose the replay 0 v 2, but county lost in the final to Blackburn Rovers at Kennington Oval, 1 v 3. 7 March 1891 saw tom Porteous become Sunderlands first ever cap. Porteous starred for England against Wales at Roker Park, the game won 4 v 1 by the hosts.
Sunderlands league campaign was now virtually at an end with home victories over Preston North End and Derby County, 3 v 0 and 5 v 1 respectively sealing a good first season. Sunderland then finished the season with 13 friendlies, all of which were won.